Official lore:
Do not add to, edit, or remove any of the story, unless the official source changes.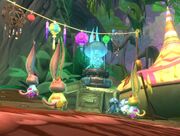 Welcome aboard, Marshal Scouts! Marshal Scouts very special Lopp - because Marshal Scouts choose to follow example of big hero Marshal Yatish. Now you learn Official Loyalty Oath of the Yatish Fan Club!
A Marshal Scout is Brave and Smart,

Never loses Faith or Heart.
A Marshal Scout is Swift and Bold,
Like heroes from the Days of Old!
A Marshal Scout is like Yatish,
Not afraid of Lopp nor Beast.

A Marshal Scout's Loyal! Just!
Honor, Wisdom, Might, and Trust!
A Marshal Scout will always Fight,

Doing what is Good and Right.

A Marshal Scout is Strong and True
Fights for Lopp like Me and You!
A Marshal Scout is Here to Say,

This Oath at least Three Times a Day!
Now you true Marshal Scout be big help to big hero Marshal Yatish. Shiny. shiny. Marshal Scouts!
This journal is located in Marshal's Haven in Wilderrun at 2826,-3910
External links
Edit
Ad blocker interference detected!
Wikia is a free-to-use site that makes money from advertising. We have a modified experience for viewers using ad blockers

Wikia is not accessible if you've made further modifications. Remove the custom ad blocker rule(s) and the page will load as expected.