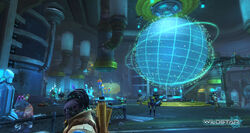 Shiphands are missions that you will occasionally come across during your leveling process. The missions themselves are often off world and consist of questlines with optional side quests for extra credit. Shiphands can take anywhere from 15 to 45 minutes to complete and can be done by 1 to 5 players. The missions scale depending on how many players are in the group, and they are repeatable. Some of them have random elements that spice up the experience of going back through.
The first Shiphand you will encounter should be around level 6. They sometimes have random elements change in order to vary the experience. They are less challenging than dungeons or adventures. Shiphands are not required, but do provide a bit of a vacation from your current leveling experience.
List of Instances by Level
Ad blocker interference detected!
Wikia is a free-to-use site that makes money from advertising. We have a modified experience for viewers using ad blockers

Wikia is not accessible if you've made further modifications. Remove the custom ad blocker rule(s) and the page will load as expected.