Jeff Kurtenacker is a musician and composer and is currently working at Carbine Studios. He wrote and produced the music currently used in the MMO WildStar as well as many of the sound effects used throughout the game. His previous work includes working as a choral arranger and copyist on World of Warcraft and Warcraft 3. He currently lives in Southern California and has a degree in Music Composition and Audio/Video Technology from Lawrence University in Appleton, WI. 
It is said that Jeff Kurtenacker has an 'unholy love of donuts and Tom Servo'.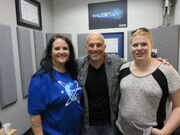 Ad blocker interference detected!
Wikia is a free-to-use site that makes money from advertising. We have a modified experience for viewers using ad blockers

Wikia is not accessible if you've made further modifications. Remove the custom ad blocker rule(s) and the page will load as expected.