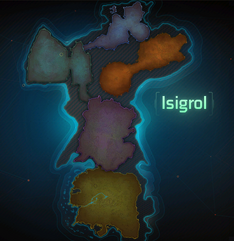 Isigrol is named after the Ancient Cassian word for "hell" with very good reason: the entire continent is dangerous and inhospitable, the burning sands of Malgrave to the south, and the unspeakable horrors of Grimvault to the north.
Taxi locations
Edit
Ad blocker interference detected!
Wikia is a free-to-use site that makes money from advertising. We have a modified experience for viewers using ad blockers

Wikia is not accessible if you've made further modifications. Remove the custom ad blocker rule(s) and the page will load as expected.