This article is a guild information page for i4Ni of

Nexus (NA)

.

The contents herein are entirely player made, and in no way represent official WildStar history or occurrences. Characters and events listed are of an independent nature, and may be role-play, fictional, speculative, or opinion from a limited player-base. Guild pages must comply with Guild page policy.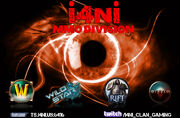 About us
Edit
-i4Ni- (Prounounced Eye for an Eye) has been around for nearly 15 years. We started out in FPS with MOH and now we also play BF4. But this part of -i4Ni- is for MMO. We will use Mumble for voice chat.
Guild Rules
Edit
-i4Ni- does not require to much to be part of our MMO guild, but we do ask that the rules are followed.
The Rules
* We are 18+ because of mature language that may happen
* We ask that you be willing to help others in the guild
* We will not tolerate racial or sexual orientation descrimination
* Once we get a website up and running, we ask that you be active on it
* If you decide to raid with us, please be able to make the dates and tiems we set up
* PVP players are welcome. but we are mainly a PVP guild.
* And most importantly, Have fun!!
Extra Details
Edit
As soon as we can, we will get a website up and running and we will put the raid schedule on the website. We are not a hard core raiding group, but we will be a guild that progress to end game. Feel free to visit us on twitch @i4ni_glan_gaming
External links
Edit
Ad blocker interference detected!
Wikia is a free-to-use site that makes money from advertising. We have a modified experience for viewers using ad blockers

Wikia is not accessible if you've made further modifications. Remove the custom ad blocker rule(s) and the page will load as expected.