This article is a guild information page for Twisted Sin of

Orias (NA)

.

The contents herein are entirely player made, and in no way represent official WildStar history or occurrences. Characters and events listed are of an independent nature, and may be role-play, fictional, speculative, or opinion from a limited player-base. Guild pages must comply with Guild page policy.
| | |
| --- | --- |
| | Twisted Sin |

| | |
| --- | --- |
| Name | Twisted Sin |
| Founded | 5/30/2014 |
| Realm | Orias (NA) |
| Guild Level | 0 |
| Leader | Goregazm |
| Target | PvE |
| Accounts | 16+ |
| Levels | Any |
| Restrictions | Don't stand in bad stuff. |
| Website | Twisted Sin |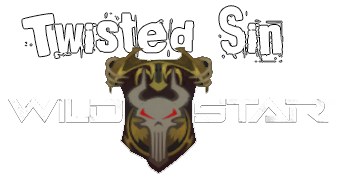 About Us!
Edit
More content coming soon! For now, this is what we have for you!
Twisted Sin is founded by a group of friends/streamers that have been playing games and raiding reg and hard core for years.
We will be forming on the Exile faction on the Orias (NA region) server. We will be working towards gearing for Raids and Warplots.
If this at all interests you, PLEASE drop MindlessPuppetz or Drunkenuff a message, either on Twitter or Twitch and let either of us know you would like to join us!
Until then, we're off buying some hardcore panties while waiting for raids. \\m//
External links
Edit
MindlessPuppetz: Twitter || Twitch.tv
Drunkenuff: Twitter || Twitch.tv
Website: Twisted Sin
Ad blocker interference detected!
Wikia is a free-to-use site that makes money from advertising. We have a modified experience for viewers using ad blockers

Wikia is not accessible if you've made further modifications. Remove the custom ad blocker rule(s) and the page will load as expected.