This article is a guild information page for The Hungry Dingoes of

Myrcalus (NA)

.

The contents herein are entirely player made, and in no way represent official WildStar history or occurrences. Characters and events listed are of an independent nature, and may be role-play, fictional, speculative, or opinion from a limited player-base. Guild pages must comply with Guild page policy.
| | |
| --- | --- |
| | The Hungry Dingoes |
| | |
| --- | --- |
| Name | The Hungry Dingoes |
| Founded | 3/1/11 |
| Realm | Myrcalus (NA) |
| Leader | Gloin - Guildmaster |
| Co-Leader | Calien - Number One |
| Guild Officers | Heshen - Nesasa - Deslok (Counsel) |
| Webmaster | Gloin, Calien |
| Target | PvE PvP |
| Members | Shae - Morale Officer, Ozibattla - Recruitment |
| Accounts | 20+ |
| Levels | 0-50 |
| Country | Australia, USA, New Zealand |
| Special | Oceanic |
| Restrictions | No Racism |
| Website | The Hungry Dingoes |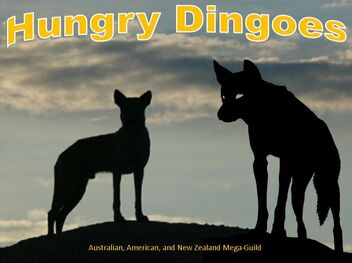 THE HUNGRY DINGOES

Edit
Welcome. "Hungry Dingoes ",  is a casual raiding/pvp guild for Several Popular MMO's. We started with Star Wars: the Old Republic, but many have played together even longer than that. We are an American/Australian Guild. Our goal is to provide a rewarding, professional, and fun environment for serious and casual players alike. We have a strong and active leadership team. Our officers and members are mature players ranging from college students to parents, who realize the importance of a healthy and productive life outside of MMO's. We offer casual players a fun and stress-free environment, with no raiding requirements as long as you are not on a Storm Legion Raid Team.
"Hungry Dingoes " offers serious players the same professional attitude that most of us follow in our real life careers: on-time, prepared, methodical, and efficient. We offer tools such as Teamspeak 3 Servers to make raiding as efficient as possible. 
"Hungry Dingoes " success depends on each player meeting guild expectations on attitude, communication, and collaboration; a chain is only as strong as the weakest link. Our members are expected to help one another, respect one another, and contribute regularly to the guild's needs. Communication tools include a Teamspeak 3 server, a website with forums (for discussion of game content or everyday real life topics that address nothing other than to have a good laugh), and an event calendar. This philosophy serves as the foundation for healthy relationships, player commitment to the guild's objectives, and guild commitment to individual player objectives.
Recruiting open now, Raid calendar posted on our site... We have fair and balanced loot rules..
We the Guild Members would like to welcome you to The Hungry Dingoes with open arms. There are many wonderful ideas in the process of being put into place for us all. With our Officers overseeing your input we shall make this a thriving guild with a good balanced group of seasoned MMO veterans. Please be patient as we implement these plans.
Please use the forums wisely and often..and register your toons and keep them updated often. 
Register at our website.. www.hungrydingoes.com .. message us in game and we will add you..
     
Thank You Gloin
Guildmaster
Read more: http://hungrydingos.iclanwebsites.com/#ixzz2zhoxI47E
External links
Edit
Ad blocker interference detected!
Wikia is a free-to-use site that makes money from advertising. We have a modified experience for viewers using ad blockers

Wikia is not accessible if you've made further modifications. Remove the custom ad blocker rule(s) and the page will load as expected.