This article is a guild information page for The Flamewrought of

Nexus (NA)

.

The contents herein are entirely player made, and in no way represent official WildStar history or occurrences. Characters and events listed are of an independent nature, and may be role-play, fictional, speculative, or opinion from a limited player-base. Guild pages must comply with Guild page policy.
| | |
| --- | --- |
| | The Flamewrought |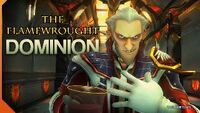 Our Website: The Flamewrought Website
Our Application: Application
Facebook: The Flamewrought Facebook
About Us
Edit
The Flamewrought is a semi-hardcore raiding guild started by a group of friends on the US West Coast. Our members have a great deal of raiding experience, including server first kills in WoW and holding leadership positions in one of the top 150 WoW guilds in BC. Coming for different raiding backgrounds in several MMO's, WildStar is where we take our separate experiences and join them together in one effort: To take WildStar by storm.
Progression
Edit
The Flamewrought aims to be a progression raiding guild within WildStar. Once a raiding force has been established, we expect to be concentrating on the 40 man raids. We will be running several 20 man groups once they have been cleared and are on farm.
Content Production
Edit
The Flamewrought is currently producing content for the community. This includes zone maps to help players level and figure out where they should go next. They are also producing dungeon guides, with the plan to produce veteran dungeon guides and even raid boss guides.
Twitch Streams
Edit
Several of our members will be streaming their leveling experience, general game-play, and even our raiding. You can find their twitch streams here.
Ad blocker interference detected!
Wikia is a free-to-use site that makes money from advertising. We have a modified experience for viewers using ad blockers

Wikia is not accessible if you've made further modifications. Remove the custom ad blocker rule(s) and the page will load as expected.