This article is a guild information page for Sinister Smile Gaming of

Pergo (NA)

.

The contents herein are entirely player made, and in no way represent official WildStar history or occurrences. Characters and events listed are of an independent nature, and may be role-play, fictional, speculative, or opinion from a limited player-base. Guild pages must comply with Guild page policy.
| | |
| --- | --- |
| | Sinister Smile Gaming™ |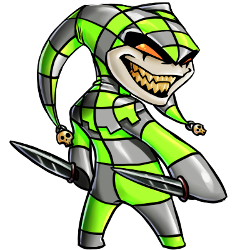 About Us
Edit
Sinister Smile Gaming™ (SSG), is a newly formed, multi-gaming community constructed for the purpose of competitive PvP. Our primary chapter of focus is currently WildStar Online, but our members are too engaged in Elder Scrolls Online, League of Legends, and Smite. We are open to all games that can carry a large enough following with both a leadership and member presence. SSG is in no way an elitist organization and tend to find that members who possess a desire to engage in teamwork, develop innate skill, learn to formulate strategies and tactics, and prove themselves in an ever evolving environment will always trump the individual player who chooses to stand alone.
Our primary focus is of a competitive PvP nature. For an official member, nothing is more glorious or thrilling than seeking out and destroying opposing players. Although some of our members may enjoy the occasional foray into the realm of PvE (which is highly encouraged in order to truly master your abilities), the focus on PvP will always be the blood that pumps life into the heart of our community.
It is our mission to incorporate and establish a presence within both the esport and mmorpg scenes respectively. Our membership base consists of those, who through determination, experience, drive, and commitment attempt to bring these aspirations to life. By devising and implementing strategy, overcoming weakness and diversity, and maintaining a positive attitude, we will become a staple for all competitive play that will make us not only better gamers, but a stronger community as a whole.
Ad blocker interference detected!
Wikia is a free-to-use site that makes money from advertising. We have a modified experience for viewers using ad blockers

Wikia is not accessible if you've made further modifications. Remove the custom ad blocker rule(s) and the page will load as expected.