This article is a guild information page for Einsof Gaming of

Myrcalus (NA)

.

The contents herein are entirely player made, and in no way represent official WildStar history or occurrences. Characters and events listed are of an independent nature, and may be role-play, fictional, speculative, or opinion from a limited player-base. Guild pages must comply with Guild page policy.
| | |
| --- | --- |
| | Einsof Gaming |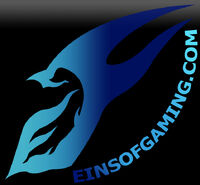 | | |
| --- | --- |
| Name | Einsof Gaming |
| Founded | 1990s |
| Realm | Myrcalus (NA) |
| Leader | Einzo |
| Co-Leader | Mion |
| Target | PvE PvP Raid |
| Country | Singapore |
| Special | Oceanic |
| Website | Einsof Gaming |
Einsof Gaming is an established Active Gaming Community that has forged itself in many games. We are a community of Passionate Gamers. Our Guild usually range in hundreds to a thousand members, depending on the games, quality and Guild system. We may be a large community, but we keep things organized. We have also gained recognition by some indie game developers who approached us to test their games. We have our own website, forums, facebook, twitter, youtube, VOIP and more. We welcome both casual and hardcore Gamers! :)
Our Legacy
Edit
6Days7Nights in World of Warcraft
BabyBluez in Shattered Galaxy
Einsof in Left 4 Dead 1 & 2, Aika Online, Alien Swarm, Dragonica, Legendary Champions, War Of Angels, Dragon Nest, Battlefield 3, SWTOR, Guild Wars 2, Age Of Wushu, Warframe, RO2, Path of Exile, TERA, Neverwinter, Defiance, Final Fantasy XIV: A Realm Reborn, Diablo 3
WildStar Guild Info
Edit
Guild Name: Einsof Gaming
Guild Tag: [Einsof Gaming]
Guild Main Base: Singapore
Guild Region: Global International
Guild Language: English
Guild Primary/ Main Faction: Exiles
Guild Secondary/ Alt Faction: Dominion
Main Raiding Timezone: +8 GMT to +10 GMT

SG Based / Oceanic International
Raidcall Information
Edit
Group ID: 3540514

External links
Edit
Ad blocker interference detected!
Wikia is a free-to-use site that makes money from advertising. We have a modified experience for viewers using ad blockers

Wikia is not accessible if you've made further modifications. Remove the custom ad blocker rule(s) and the page will load as expected.