This article is a guild information page for Dream Bridge of

Olyssia (NA)

.

The contents herein are entirely player made, and in no way represent official WildStar history or occurrences. Characters and events listed are of an independent nature, and may be role-play, fictional, speculative, or opinion from a limited player-base. Guild pages must comply with Guild page policy.
| | |
| --- | --- |
| | Dream Bridge |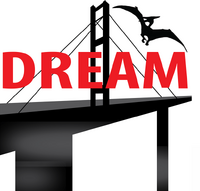 | | |
| --- | --- |
| Name | Dream Bridge |
| Founded | 11/30/13 |
| Realm | Olyssia (NA) |
| Guild Level | N/A |
| Leader | Gyrodat |
| Guild Officers | Whimsy Spook |
| Target | PvE PvP |
| Levels | All - Mostly 50. |
Guild Information
Edit
Dream Bridge is (at the moment) a small community type guild. Our main focus is to make friends and have fun while doing so. We are not focused on one type of game play. We will have both a Raid group and a PvP team (Which we are actively seeking leaders for) and we will not exclude any member that wants to be a part of the fun. (Though requirements such as gear, voice chat, etc. may be asked of you and a main raid group will also be formed).

If you would like to join Dream Bridge, please send us an email, at the address listed at the bottom of the page. We accept applications from all who are interested. Please include the following in your email:
Player Name
Position Applying for (Raid Member, Raid Leader, Casual, Recruitment Officer, etc.) (Positions are listed at bottom of page)
Why you chose Dream Bridge
Any suggestions to further contribute to the success of our guild
Guild Progress and Achievements
Edit
As the guild progresses on Nexus, this section will be updated. This will include things like raids conquered, PvP victories and feats, and just other general noteworthy achievements Dream Bridge achieves.
Dream Bridge is a small group founded by five college students on November 30, 2013 and is dedicated to gaming.
We are currently seeking a dedicated Raid Leader. The raid leader would be responsible for scheduling raids and leading them to victory. The raid leader will have first choice (along with the other higher authorities of the guild participating) who will be included in the main raid group -- and who will not. The raid leader will the guild leader (Gyro) for now, but we are looking for someone to fill this role ASAP
Raid Schedule:
Monday: 7-10pm MDT
Wednesday: 7-10pm MDT
Thursday: 7-10pm MDT
Guild Rules
Edit
Guild Leaders
Edit
Gyrodat - Guild Master and founder
Whimsy Spook - Officer and co-founder
Recruitment and Guild Positions
Edit
We are currently accepting applications from anyone interested. Closer to launch, we specify further what we need to fill our PvE and PvP teams.

Positions we are focusing on filling right now are as follows:
Casuals - Casual players are very welcome and are an excellent part of the community
Raiders - Players wishing to focus on the raiding aspect of the game
Raid Leader - A leader, who schedules raids and has authority in regards to how the raid is put together and run
PvPers - Players wishing to focus on the PvP aspect of the game
PvP Leader - A leader, who puts together a team and beats up all the other teams
To Apply, -- or if you have questions -- please email us at: DreamBridgeWS@Gmail.com
External links
Edit
Ad blocker interference detected!
Wikia is a free-to-use site that makes money from advertising. We have a modified experience for viewers using ad blockers

Wikia is not accessible if you've made further modifications. Remove the custom ad blocker rule(s) and the page will load as expected.