This article is a guild information page for Disaster Area of

Eko (EU)

.

The contents herein are entirely player made, and in no way represent official WildStar history or occurrences. Characters and events listed are of an independent nature, and may be role-play, fictional, speculative, or opinion from a limited player-base. Guild pages must comply with Guild page policy.
| | |
| --- | --- |
| | Disaster Area |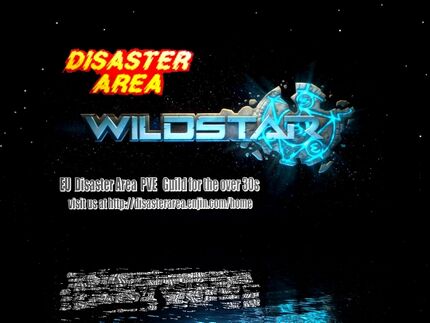 Do you think about mortgages?  Do you insist on sugar soaping walls correctly before attempting any new painting work?  Do you recall seeing an Indiana Jones film at the cinema?  Have you or any member of your family ever bought Humus? If the answer to any of these questions is yes, Then its just possible that you have the kind of razor sharp mind mired in post 30's malaise that we're looking for. Disaster Area! Formed by like-minded friendly people who value quality over quantity, playing games for fun first and as a release from the stresses of the day.  We will certainly enjoy taking part in all content WildStar will provide; questing, adventures, dungeons, PvP and eventually raids.  However there is no stress of server firsts or demands from members save to have fun and treat everyone with respect. We will play on Eko EU PvE server and initially start Exile side.  We're an open and friendly bunch, if you think you'd like to join us head to our recruitment page and prepare to slip into the giant tartan bootee of comfort.
Ad blocker interference detected!
Wikia is a free-to-use site that makes money from advertising. We have a modified experience for viewers using ad blockers

Wikia is not accessible if you've made further modifications. Remove the custom ad blocker rule(s) and the page will load as expected.