This article is a guild information page for Die Trying of

Widow (NA)

.

The contents herein are entirely player made, and in no way represent official WildStar history or occurrences. Characters and events listed are of an independent nature, and may be role-play, fictional, speculative, or opinion from a limited player-base. Guild pages must comply with Guild page policy.
| | |
| --- | --- |
| | Die Trying |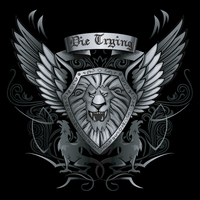 | | |
| --- | --- |
| Name | Die Trying |
| Founded | 2/1/2014 |
| Realm | Widow (NA) |
| Guild Level | 1 |
| Leader | Mosus |
| Target | PvE PvP |
| Accounts | 15+ |
| Special | Oceanic |
| Restrictions | At least 18 y/o |
| Website | Die Trying |
About the Guild
Edit
Die Trying is a group of gamers who value the quality of playing in an enjoyable community over anything else. Sure we've always been skilled with our characters and have countless success stories under our belts, but what fun is a game if you don't have "fun" to begin with?
WildStar Mission Statement
Edit
DIE TRYING will maintain a large presence on Nexus within a PVP server while engaging in PVX activities. We will be playing with the Exile faction upon launch. Server selection will be based on where the unofficial oceanic server is. Playing this server will maximize our active online window.
Raid Schedule
Edit
As of right now our tentative raiding times for WildStar will begin at 9:00 PM EST.  Because our membership numbers are increasing at a steady rate, this time may change to suit the needs of our guild.  Of course, we want to ensure that we can get maximum participation at raiding events.
Goals and Features
Edit
Long-term goals include a large raiding presence and dedicated PVP teams.

Primary goal is to have fun and play W* as a team

Casual environment. We have real lives, families, and jobs. RL comes first, always.

Active hours are almost 24/7, but most members are on around the US EST time zone

We recruit the PERSON not the TOON

Most of our members have an extensive game library that includes DayZ, War Thunder, Cards Against Humanity, Minecraft, Planetside 2, and many more.
Membership Requirements
Edit
Age 18+

Fluent in English

Capable of using TS on a regular basis

Maturity: We have a low tolerance for disrespectful behavior

Willing to commit 10+ hours a week to play time
​
Contact Information
Edit
Post an inquiry at our web site or send an email to the Guild Leader (WorkHorse) at mrkerl@yahoo.com.
External links
Edit
Ad blocker interference detected!
Wikia is a free-to-use site that makes money from advertising. We have a modified experience for viewers using ad blockers

Wikia is not accessible if you've made further modifications. Remove the custom ad blocker rule(s) and the page will load as expected.