This article is a guild information page for Dawn Of Ascension of

Pago (NA)

.

The contents herein are entirely player made, and in no way represent official WildStar history or occurrences. Characters and events listed are of an independent nature, and may be role-play, fictional, speculative, or opinion from a limited player-base. Guild pages must comply with Guild page policy.
| | |
| --- | --- |
| | Dawn Of Ascension |
| | |
| --- | --- |
| Name | Dawn Of Ascension |
| Founded | May 29th, 2014. |
| Realm | Pago (NA) |
| Guild Level | 0 |
| Target | PvE PvP |
| Levels | 50 |
| Restrictions | Previous end game MMO experience. Mature. Commitment |
| Website | Dawn Of Ascension |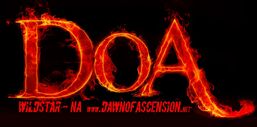 Website + Basic Info
Edit
You can find out more about us on www.dawnofascension.net
We are looking for more members to begin forming our 20 man raid team.
We are a bunch of real life friends who have decided to form our own guild and start off by focusing on building a strong community and enjoy the end game content with new friends.
Who are we?
Edit
Who are we?
We are a simple bunch of friends who have previously played a lot of MMORPG's including:
WoW (all expansions), Tera, Rift, FF XIV ARR, Guild Wars 1&2, Dungeons & Dragons (a bunch of them), and more...
We are an experienced group of people interested in Wildstar and we are looking forward to many aspects of the game such as, 20&40 man raids and Warplots, the type of content that requires teamwork.
We will be a semi-hardcore guild focusing a lot on progression but also focusing on having fun and taking it one step at a time.
We enjoy meeting new people and playing with others and hopefully we can have a blast at raiding together!
Officers - KvitusNac, DeiRed, MiktoYounes, to be annonced.
We are led by equals and make a democratic decision when it comes to the guild!
External links
Edit
Ad blocker interference detected!
Wikia is a free-to-use site that makes money from advertising. We have a modified experience for viewers using ad blockers

Wikia is not accessible if you've made further modifications. Remove the custom ad blocker rule(s) and the page will load as expected.